How To Promote Your Blog Posts In 2020? This has been a concern among new bloggers. I was no different.
It's true that when you are a single person managing everything on your own, it gets difficult to keep track of everything and our website stats do not boost your motivation.
You want it, don't you?
To attract thousands of visitors to any of your blog posts.
Reply to dozens of comments and get hundreds of social shares. Send thank you emails to the people who link to your content. To receive positive feedback on your work.
I'll tell you the exact plan and strategies that I use to achieve this goal.. (Hint: You only need to follow 5 steps!)
I'm just like you! A few months ago, I bought a domain name and started my blogging career again in one of the most competitive niches.
My posts receive about 2,000-4,500 page views.
5 Simple Steps to Attract 1,000 Visitors to Your Posts
If you are running short of time, then save this infographic. You can simply save it on your device, or else you can share it on social platforms. 
This will remind you to come back again when you have time.
Now let's talk about those 5 simple steps to gain 1000 visitors. It would be a 10 to 15 minute read. Let's get started.
01) Choose The Right Topic For Your Future Posts
Selecting your topic will always be the starting point for your success. If you make a mistake on this first step, you'll deprive yourself of what could potentially be thousands of viewers.
Always consider how useful your article will be.
Nowadays, millions of posts appear on a daily basis, so you'll need to think hard when you choose a topic for your article.
You'll find success if your article is about the people who read it – about the problems your target audience has to cope with. (Your personal emotions are very important to your readers!)
Decide what to write about while thinking about how your words and experiences can help the person who found your blog.
Don't rush and write about the first thing that pops up in your mind. Maybe earlier it was easier to create content without thinking too much about anything. But times have changed.
Only those bloggers with a precise plan of action achieve success.
If you don't have a list of ideas for your posts, you should definitely make one! Personally, I use Trello (both on my laptop and cell phone). Every time an idea comes to me, I make a note of it there.
If you can't figure out what to write about in your next post, I recommend that you read the complete article. 
Finding blog post ideas can be difficult at times. You have to be creative and practical.
If you are stuck and can't come up with anything, you can use the following trick.
For example, review the sidebars of your competitors:
Have you seen these posts?
More often than not, these will be the articles that get the most traffic.
Nothing stops you from using the ideas from these posts and stealing them somehow (I'm talking about the topic of the article and the keywords, but not the content itself!)
So, now you know what to write about. The next step is to implement some SEO magic!
Most of the problems related to traffic depletion that bloggers face are caused by fear of SEO. I'm not going to badger you, but I can say that you're just being bulldozed.
It's a myth.
You're just afraid of the unknown.
You struggled a bit in the beginning when you were learning to ride a bike, but now you can enjoy it for the rest of your life.
Trust me – just 30 minutes of SEO work per post will help you increase your natural traffic and boost the rankings of your keywords.
Search engine traffic for your posts depends on the seed keyword you've chosen. For many blogs and commercial websites, organic search is the #1 source of traffic.
Let's devote some more of our time to the seed keyword.
I love using tools that help me save time. How about you?
I recommend that you install the following extensions onto your Chrome browser.
They will help you determine the quantity of your Google search queries (you need to know the popularity of your key phrase), and also the difficulty of promoting your post with this query.
Everything is very simple.
Input on Google that your users will be searching as they look for the information related to the topic of your article.
For example:
Keyword Keg simply adds data from monthly searches directly to Google.
MozBar helps you determine the strength of your competitors. The higher the DA (Domain Authority) and PA (Page Authority) indices are, the more difficult it will be for you to compete with them. 
But don't be afraid. If your article is useful and your users like it (many sites will have links to it, and it will be shared and commented on in social media), then you'll definitely overtake your competitors.
Hint: If you see that your competitors – those with the same keyword – have a DA that's twice as high as yours, then you should choose a different phrase. Remember that it's not the sites that compete with one another, but the pages!
Also, don't forget to scroll down to review the queries that are relevant to your seed keyword. One of those will probably suit you better.
Your task is to choose the key phrase for your post. This key phrase should have less competition and more monthly searches. The competition is usually weaker among long-tail keywords, or phrases that consist of 3 or more words.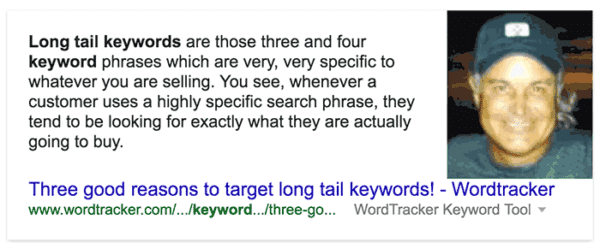 Then you'll need to feed this phrase with relevant keywords.
Think of the words and sentences you should use in your article.
It's better not to check the frequency of queries on Google Keyword Planner, even though thousands of people do so. Instead, simply steal the keywords of your competitors.
For example, if I wanted to write a post with the keyword "best names", I would do as follows:
Open the first 3 sites that are shown on this query.
Using

SEOQuake

,

define the common words

and phrases that are used on these pages. (Read the articles thoroughly and mark the keywords that are used in them. They will always be in the headings H1-H3.)
Using the tool

Ubersuggest

, complete your list of keywords.
Let's move on to the next step toward success.
02) Steal The Best From Your Competitors.
Over the past 15 years of my career, my main secret has been spying on competitors.
You don't need to know hundreds of search engine algorithms.
You don't need to spend years studying SEO.
Just analyze your competitors, meaning the pages that appear in the results displayed by the search engines based on your keyword.
You should always take notice of two aspects:
Quality of the content

Quantity and quality of the external/internal links
Answer the following questions:
Why do these articles get the majority of shares, comments and links?

How many words are in the articles?

What media content is used?
Tools such as Buzzsumo, MozBar and SEOQuake will help you carry out your analysis.
You should also steal their best backlinks.
Now you have enough information to start creating your post.
03) Create Your Impressive Blog Post
Use all the knowledge you've acquired from researching your competitors.
Pay extra attention to your heading.
It would be better to write at least 10 different versions that you can use (and test) afterwards on social media.
Check your headlines using the wonderful and free Headline Analyzer tool.
Try to be different and outstanding.
Don't forget about the long-form content rules that are in place today. According to research, articles that abide by these rules get the most shares, links and organic traffic.
The more useful and interesting your post is in comparison to your competitors, the more chances you will have to achieve impressive results.
For example:
Make your infographic

Add a video manual

Make an interesting quiz or checklist at the end
Think about your reader and give him a complete answer to the question he approached you with.
Do the basic on-page SEO
Yes, now I'm telling you to pay attention to search engine optimization.
Because it works!
Throughout my career, I've promoted and audited thousands of sites.
Only a select few actions can attract thousands of visitors to your blog.
Up until now, I nearly broke into tears each time I saw something like this:
Save this basic on-page SEO checklist and use it every time you create a new post:
Create a Page Title that you would want to click on.

Add the call to action in the Meta Description.

Evenly spread the keywords you've prepared.

Use the H1-H3 tags for your subheadings.

Use a short URL for your blog post.

Add some best internal links. (Determine your strongest pages and include links to them.)

Add some quality external links (like wikipedia)
04) Find Those Who Could Be Benefited From Your Blog post. Make Friends With Those people!
The basics of your traffic are support and friendship.
Memorize it!
Repeat:
The traffic to your blog depends on the relationships you've built.
When the competition becomes intense, the people who have more connections win. Building a large network is your top priority as a blogger.
You may find yourself wondering: Where do I get new friends? How do I make them help me?
I was thinking a lot about this, as I wanted to find a quick solution to this problem.
I was contemplating all the promotional techniques I knew, but they all require time and money, and it's almost impossible to do it all by yourself.)
Since I'm in the same situation as you (now I'm a blogger too), I understand very clearly that certain pieces of marketing experts' advice aren't suitable for me.
Not everything works for bloggers who have families and other jobs.
We don't have as much free time.
I read many such articles while I was looking for the best way out of this situation. For 6 months, I was doing nothing but reading and posting on my Twitter account (in addition to the rest of my work, so don't go thinking that I was a couch potato).
Quite often, I could find something new for me not in the post itself, but in the comments.
In the comments, debates flare up everywhere you look. The comments are where people bring forward their opinions like they've got something to prove.
In reading those comments, we not only get the author's opinion on a given subject but also the opinions of dozens and sometimes hundreds of other people.
Bingo!
All those who argue passionately about your topic are your target audience. This works well for both bloggers and big companies.
Now, you have to approach them and ask them to share your content.
Here's what you need to do:
Find your future friends

among the commenters (using blogger outreach).

Become Facebook friends

with the most active members of the thematic groups.

Divide the list

of your friends into two groups: the authorities and the regular bloggers.

Take a different approach with each group.

Make a list of

respectful communities

that have significant traffic.

Make friends. Do something useful for them and then…

ask them to share your content!
If you don't ask, they won't help you.
Your growth will always depend on your ability to ask. Look beyond your embarrassment and fear of hearing the word NO!
Since childhood, I've been afraid of this word unlike anything else.
BUT!
In reality, people are very kind, and they're always willing to help.
When the person you ask for help is interested in your topic, the magic of promotion happens.
Your future friends are waiting for you because their engagement is at its peak. After all, they've already commented on this topic, haven't they?
05) Publish Your Post And Actively promote It
Publish your post at the beginning of the day. This will give you the time you need to actively promote it.
The timing of the launch is crucial. You will have a complete list of friends who reacted positively to your letters about acquaintanceship and friendship.
Add your blog post to the communities and groups you've found
In my case (the niche of blogging, SEO and online marketing), those key communities are:
The main idea is for your friends to support you with their votes and comments. The more you have them, the more likely you are to reach the top and gain unforeseeable traffic.
The same also works for:
Facebook groups 

Reddit

StumbleUpon

Hacker News

Scoop.it
Treat your new online friends the same way you would if you knew them in person. Always help them when you can.
Your goal is to form a sort of virus impulse. If your content is good, the wave will carry you and you will see wonderful results.
Here are some additional things you'll need to do:
Send the news

to all of your subscribers and ask them to support you.

Send an email

to everyone you mentioned in the article.

Inform the owners

of the roundup posts about your article.

Tweet

those who have recently shared articles that are related to yours. (Go to

https://tweetdeck.twitter.com/

– just enter the URL of your competitor and review who shared his post.)

Add your post with different titles to

Buffer

a number of times.

When you have extra time, spend it

getting links to your post

.
There is no need to create new posts very often.
Trust me – when you get the maximum effect of SEO, you'll agree with me.
You need to devote your time not only to creating new content but also to promotion. The more involved you are in blogging, the more you will understand how to organize your time.
Our main mistake is that we fail to focus on the things that give us the maximum results. Every post needs viewers, so let's help them find us!
Some people will tell you that your email subscribers are the Holy Grail to your success.
I don't deny it, but I'm certainly ready to object.
How many users open your emails, and how many of them click the link?
Look at the indices I have when I send the emails to those who are truly interested:
I hope I've persuaded you that SEO and reaching out to the commenters of topics related to yours can give you impressive results.
I guess now you can answer about how to promote your blog post.
Just like in real life, happiness depends on the people who love and support us. And the same principle of success applies to blogs!
As a blogger, I firmly believe that blogging still has the potential to attract a large audience. 
However, a proper roadmap or strategy is required to take your blog to the next level.
Do you want to get more insights about website traffic?
Do you want me to write another blog post about traffic and targeted traffic?
Or maybe you think you have done all the steps mentioned and are still not getting 1000 visitors.
Let me know in the comments. 
You can support us by sharing this post and other posts on your social media. 
Blogging
Sharing If You Find This Post Useful 🙂 Facebook Twitter LinkedIn More Blogging and its benefits are tremendous. Firstly it is something that everyone can start on their own, without having tech skills. It is one kind of business that
Read More »
Uncategorized
Sharing If You Find This Post Useful 🙂 Facebook Twitter LinkedIn More Everyone wants to start their own business and get the freedom from working under a boss. There are multiple business ideas available to start with your full-time official
Read More »
web hosting
Sharing If You Find This Post Useful 🙂 Facebook Twitter LinkedIn More Hello and welcome to my article where I will tell you about those cheap web hosting services that can provide dedicated kind services at the cost of shared
Read More »