Hello Learners,
Are you looking for some proven and tested way to Bring Traffic To New Blog?
If yes, then you are on the right page.
Today, In this post, I will tell you some tested ways that will help you in getting initial traffic on your newly launched site.
Before this, You need to understand that, Getting organic traffic on the new site is not easy because your website is not authoritative to attract organic traffic.
Until and unless your competition is shallow and you are targeting highly low competition keywords.
Now, the question is, From where can we get traffic other than search engines.
Here come the other platforms like Twitter, Facebook, Quora, LinkedIn, etc. to get traffic to a new blog.
Now, Let's get into the things you have to do.
9 Tested and Proven Ways to Get Traffic to New Blog
So, here are the things that you should follow.
1)Offer Valuable Content And Get Traffic TO New Blog
The very first and most important thing after creating a blog is to produce high-quality, valuable content because, as we all know that content quality is most important.
There is no use to follow other below-given steps, until and unless you are not providing valuable content to your readers.
Because when anyone visits your site and they didn't find the content that they want. Then, for sure, readers will bounce back.
And this will lead to a high bounce rate and, it will harm your sites.
Now, I hope, You got my point why I am saying provide the best quality content. So, Always produce high-quality content that always satisfies use intent.
NOTE:- Highly valuable content is always shared and loved by its users, and they are happy to share that.
2) Post Shareable Images And Graphics
We all know that images and other media elements grab user's eyeballs towards your blog. It also helps in reducing the bounce rate of your blog.
So, Try to add more media elements like images, videos, info-graphics, etc. This will make your blog more attractive and people will share that on their social media and other platforms and, ultimately you will get traffic to your blog.
3) Update Your Old Content
It is one of the most amazing tips that I can give you. Trust me, updating your blog post works like a charm.
I was following this and saw a j curve in my keywords ranking. Initially, I was focusing on publishing more content.
A few months back, I started updating my old content and saw a boost in my keywords ranking.
Let me show you the stats of my site.
Now, here are the things that you should follow while updating your old content:-
First, check your site ranking in the search result or by using any paid tools.

Now check that particular post stats in the search console and find some LSI keywords for that keyword.

You can also use paid tools like ahref or semrush or google auto suggest to find LSI keywords.

Now, Check the top 10 ranking sites and analyze those sites and find the content that they haven't included.

Now, Update your old blog post with more fresh content with all the LSI keywords and you are done.

Now wait for some time and you will see a boost in your organic keywords.
4) Mention Influencers In Your Posts And Let Them Know You've Mentioned Them
This is also a great way of getting initial or to boost your blog traffic.
What all you have to do is just mention big influencers in your blog post and let them know that you've mentioned them.
If they liked your content then, for sure they will share your blog post with their audience.
Now, This will make your blog noticed by people who have an interest in the same niche and, if they find your blog content good they will visit again and again.
Want proof?
Let me show you.
A few months back, On my Youtube channel, I created a video on Best Facebook Group For Bloggers and digital Marketing and, I mentioned big influencers like Santanu Debnath, Sumit Sao, Anil Agarwal, and some more big influencers.
What happened next. They shared My video in their Facebook groups, and also Santanu Debnath Mentioned that video in one of his blog posts.
By this, I got many views and saw a quick boost in that particular video. Below are the screenshots, you can have a look at it.
You can do the same with your blog.
5)Interview An Influential Blogger
For getting traffic to your blog, you can also do some interviews with influencers in your niche. But this is not that easy. A healthy relationship or communication is a must for approaching anyone for a discussion on your blog.
You can approach anyone randomly without knowing him. So make to follow below-given tips before contacting anyone for interview:-
 Follow him/her on their social media handles.

Interact with them through their blog or Social media.

Share their blog post in your group or with your audience.
after building a healthy relationship then, approach them for the interview. This will increase your chances of getting approval.
Now, its turn for showing you the proof.

A few days back I interviewed Santanu Debnath Founder of Bloggingjoy, on my Blog. You can read that interview here.
Now, its turn for showing you the proof.
He shared that interview with his audience and I got some decent traffic on my blog and also got my blog noticed by many people and they are visiting it again and again on a daily basis.
Note:- Not only the Interviewed Person But Other people will also share that with their audience.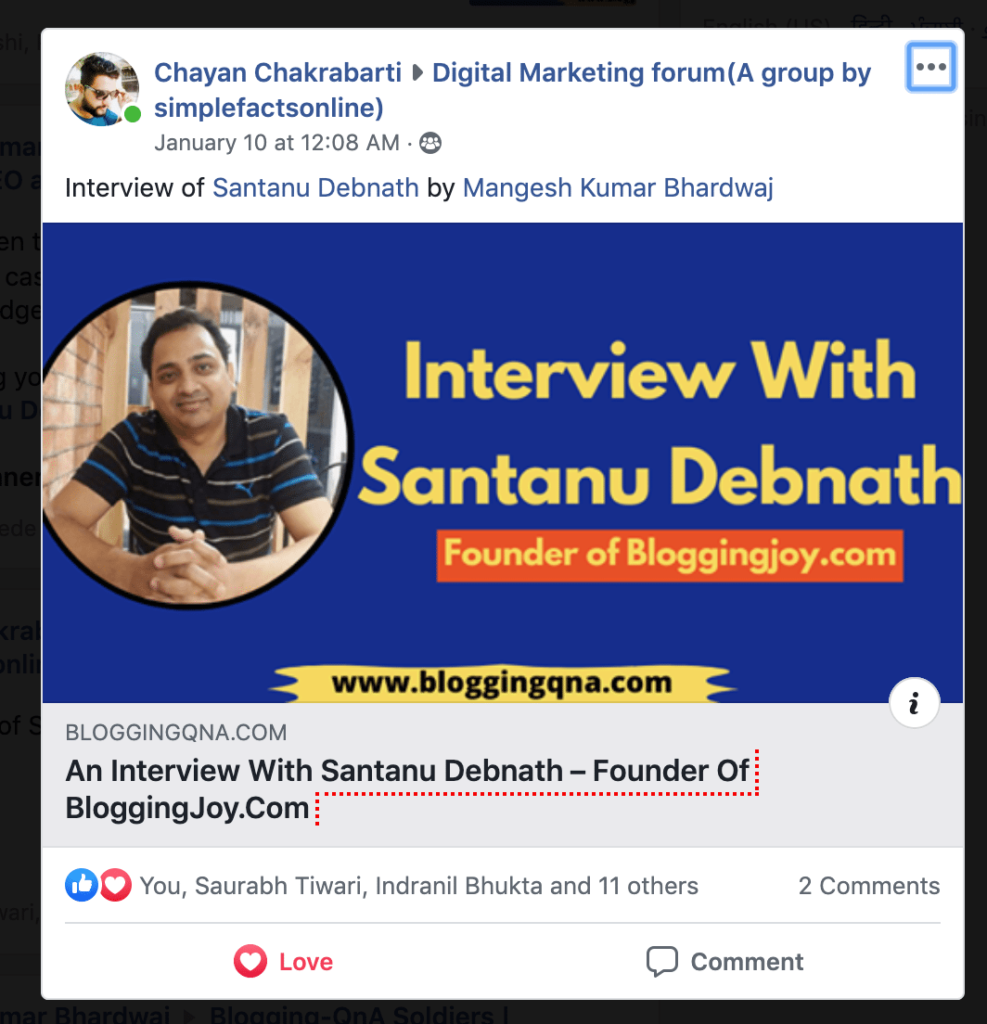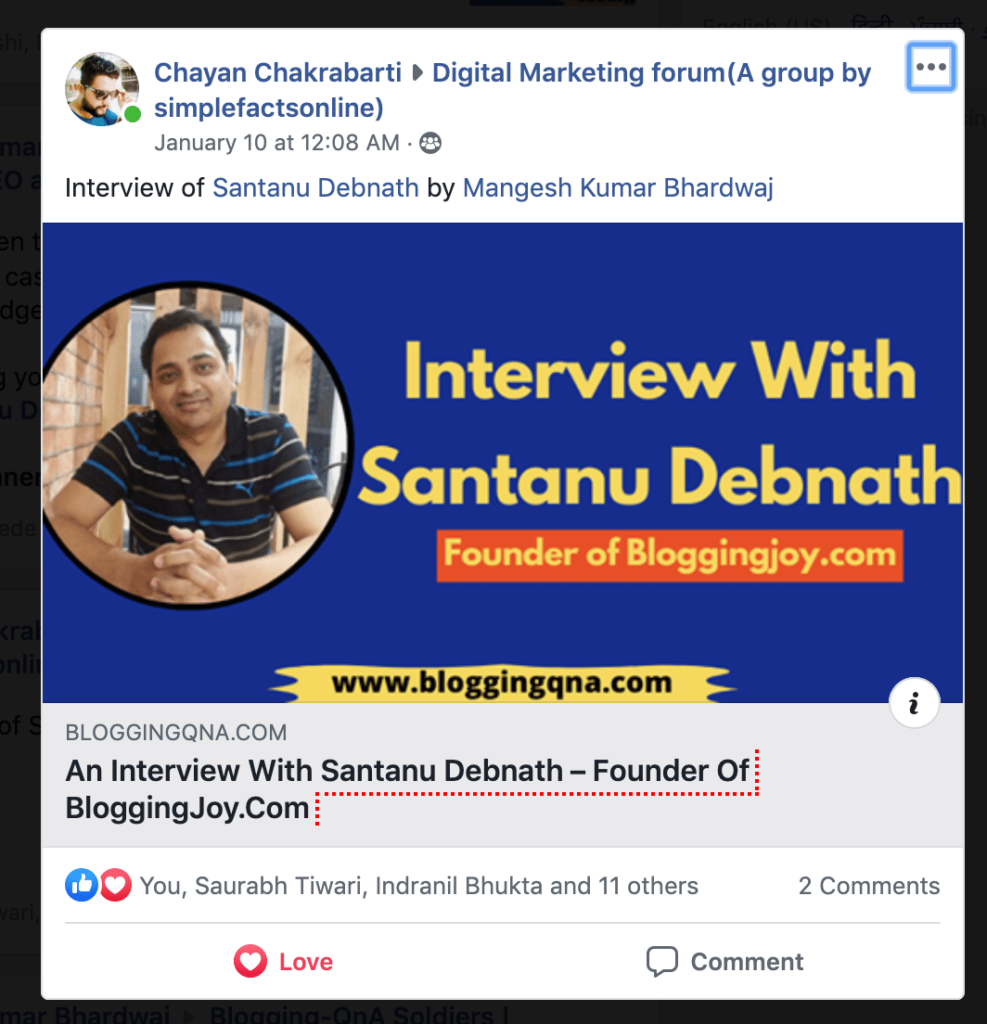 Quora is one of my favorite methods to drive traffic to my blog and, every beginner should use this for their blog.
If I talk about quora, its a gold mine for generating traffic, they not only provide quality traffic, you can get sales for your business if you target the right audience.
I have created a dedicated playlist on my channel on How to use Quora for traffic and getting sales. You can watch that by clicking here.
Now let me show you my quora profile and answer views that I got.
7)Do Networking In Your Niche
Quote by Tim Sanders: "Your network is your net worth."
Networking is very important these days within your niche. Initially, I was not doing networking at all. But from the last few months. I started doing it and I started seeing results.
And now I am trying my best to do networking as much as I can.
Here are some benefits that you will get from networking.
Networking is a must for building an authority Blog or to Make it a brand.

Strength business connections

Build confidence

Develop long-lasting professional relationships (Sometimes Personal Also 🙂 )

Get an answer to every question

Got Shares for your Blog posts.
8)Leverage Social Media Like Facebook, Twitter
Use social media like Twitter, Facebook, Linkedin, etc. to share your content on a regular basis. Promotion of your blog is also very important but newbies ignore this most of the time.
They are just focusing on producing more and more content and ignoring the promotions parts.
To leverage all the social media platforms just create your profile on all of them and, start sharing your blog content on these platforms on a regular basis.
This will help you in getting traffic on your blog and also help in making authority on your blog.
Note:- Social signals are also good ways to boost your site ranking in search results. So, Don't ignore social media platforms for your business or blog.
9)Create Your Facebook Group
As a blog owner,  you work hard to drive traffic to your site. But there is a free way to create a group filled with like-minded people interested in you and your blog niche, then turn that group into a steady stream of traffic for your website or blog?
Facebook has over 1.45 billion daily active users. It's an amazing platform where you can reach the targeted audience in your niche. 
With Facebook groups you will get targeted traffic on your blog when you share your blog content. Also, you will get blog post ideas from group members.
So, Above are some tested and proven ways to drive initial traffic to a newly launched site. Follow them properly and you will see the rise in your blog traffic very soon.
If you liked this then, please do share it on your social media platforms. 
Increase Social Media Engegements
Sharing If You Find This Post Useful 🙂 Facebook Twitter LinkedIn More Instagram is one of the most popular social media platforms in the world. It has over 1.2 billion users, which makes it not only a great way to
Read More »
Uncategorized
Sharing If You Find This Post Useful 🙂 Facebook Twitter LinkedIn More Blogging mistakes are all part of the learning process and there's nothing wrong with that. Every blogger makes rookie mistakes on this journey. But, some of these stupid
Read More »
Content Marketing
Sharing If You Find This Post Useful 🙂 Facebook Twitter LinkedIn More Writers Block? Sounds familiar? Well, I have been there too. Unfortunately, no matter how creative we are, it can come anytime and destroy our creative side. But there's
Read More »
Grab These Amazing Deals & Coupons
Try Out The World's Best SEO Toolkit Free For 7 Days.
Get The Best value For Money. And Start Your Own Website In No Time.